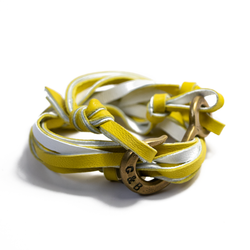 Hook Bracelet with Bonded Leather Lashing
This bracelet is handmade from Italian Calf Leather Bonded to contrast color.  The bonding makes it super strong while still being soft.
Lashed to our signature solid brass hook in our antique finish.
-Total length is approximately 27.5 inches and can be wrapped 3 or 4 times, depending on the size of your wrist.
- Size is also adjustable by adding your own knots to the leather. (Model's Wrist 7", tied one extra knot to fit)
- Made to order in our NYC studio, if there is a custom color you would like, just ask, we can probably make it! 
Customer Reviews